True BeamTM (developed by Varian Medical Systems) installed (July, 2013)
In September, 2002 when the SCC opened, two linac radiotherapy equipment were installed already, and another one was added in 2005. Then in July, 2013, one of the originally installed systems was replaced by the newest and most advanced model named True BeamTM (by Varian Medical Systems), which was the very second installment in Japan.
True BeamTM is known for high accuracy, which makes it possible to give more precise irradiation than ever even in difficult cases like when cancer is identified too close to sensitive organs including brain, spine, lung and digestive system.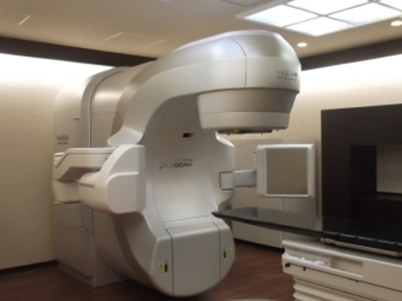 Moreover, as the power of this new model is four times higher than conventional ones, delivery time for irradiation can be shortened. Advanced functions including respiratory synchronization and positioning/tracking by images make high precision in radiotherapy possible. Especially in case of radiotherapy demanding high accuracy, including IMRT(Intensity Modulated Radiation Therapy) or stereotactic radiation therapy, the features of True BeamTM are very much helpful.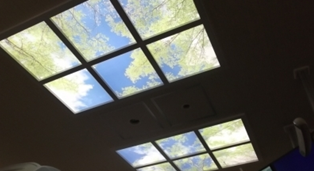 The radiation room offers patients a very comforting atmosphere, with wood-effect interior and the skylight windows. When a patient lies on the treatment table in this room, he/she will feel as if it were in the forest under the blue sky.