Graduate school affiliation system established as a new institution (April, 2012)
1) Graduate School Affiliation System with Keio University School of Medicine and Graduate School of Medicine Established (April, 2012)
Shizuoka Prefecture and Keio University came to close a business partnership agreement in December, 2010, to work together on collaborative research, industrial development and human resource cultivation, with the SCC in the center of the whole partnership. Then in April, 2012, it moved further forward to establish a new institution about graduate school affiliation system between the SCC and Keio University School of Medicine and the Graduate School of Medicine for promoting collaboration and medical education.
In April, 2013, 6 doctors entered Keio University Graduate School of Medicine by dint of this newly established system. This way, they are now able to complete their doctorates while being engaged in clinical medicine at the SCC.
The system supports those who work on doctorates in the following ways:
All the expenses including tuition and travel, etc. are covered as public expenditure up to the 4th year.

When there is a need to leave the hospital for lectures, it will be handled as "business trip." Therefore, doctors don't have to take "paid leaves" for going to school.
With these supports, doctors can now study for doctorates while working at the SCC hospital. In 2014, 4 doctors got enrolled Keio in dint of this system.
2) Graduate School Affiliation System with Graduate School of Medicine of Osaka University Established(April, 2014)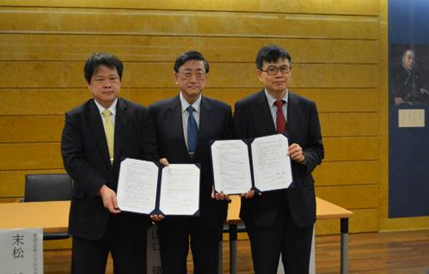 The SCC and Graduate School of Medicine, Faculty of Medicine, Osaka University closed an agreement about cooperation and collaboration in research and education (on the graduate school affiliation system), and established the graduate school affiliate for "the Science of Cancer Nursing Based on Medical Care by Multidisciplinary Team"(School of Health Sciences, Graduate School of Medicine, Faculty of Medicine, Osaka University) inside the SCC.
At the graduate school affiliate in the SCC, the medical staff of the SCC appointed as invited professors and associate professors of Osaka University give guidance on research. Upon finishing the course, doctorate of nursing sciences or health sciences is awarded.