The SCC awarded the Japan Cancer Society special award the "Asahi Award" (September, 2012)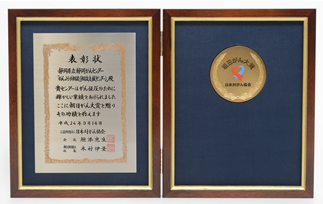 In September, 2012, the SCC was awarded the "Asahi Award" for what had been accomplished by a series of local on-site sessions called "Inquiries about Cancer" over 10 years. At the SCC, the Hospital, the Research Institute and the Disease Management Center have been working in collaboration for supporting patients and their families since the opening day in 2002.
What the SCC has been doing with the local on-site sessions of the "Inquiries about Cancer," which won the award, is now a model inquiry and support center among all set up at the Regional Medical Care Support Hospitals for Cancer Treatment in the whole nation. Inquiries from cancer patients and their families as well as citizens of Shizuoka and medical staff are given and answered both to-face and by telephone, which makes one of the efforts for pursuing ideal inquiry center about cancer.