The SCC certified as "case observation center for gastric procedure" for the "da Vinci" Robotic Surgical System (June, 2014)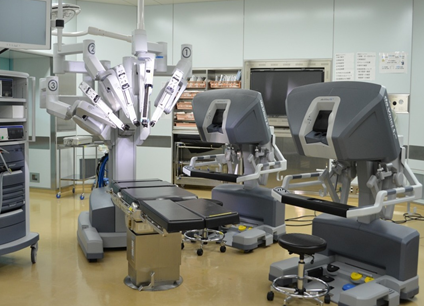 Surgical operations conducted by the "da Vinci" Robotic Surgical System have been conducted since December, 2011, and 490 cases of stomach cancer, cancer of colon and rectum, prostate cancer and mediastinal tumor have been subjected up until June, 2014. In that month, the SCC was certified as "case observation center for gastric procedure," in addition to the previous certification in the field of colon and rectum cancer, by Intuitive Surgical, Inc., U.S.A. The certification was given for the high evaluation of the well-established operative procedure at the SCC. It was the very second certification given to a Japanese medical institution.
The prevalence rate of stomach cancer is the biggest one in Japan among all types of cancer for both male and female. Especially early-stage gastric cancer accounts 50% of the whole cancer cases. Surgical operation performed by the da Vinci Robotic Surgical System proves low invasive potential, which is promising for treatment of early-stage gastric cancer because of good prognosis after surgery.
At the SCC, surgical operation by "da Vinci" is conducted for clinical stages IA and IB, which are out of adaptation for ESD(endoscopic submucosal dissection).
・Records of Operations Performed by the da Vince Robotic Surgical System at the SCC
Clinical Division
Type of Cancer
Method of Operation
2011
2012
2013
2014
Total
Colon and Rectal Surgery
Rectal Cancer
Rectal Resection
10
63
149
43
265
Gastric Surgery
Gastric Cancer
Gastric Resection
4
32
50
15
101
Urology
Prostate Cancer
Removal of Prostate
–
41
65
14
120
Thoracic Surgery
Mediastinal Tumor, etc
Removal of Mediastinal Tumor

Complete Removal of Thymus Gland

–
–
1
1
2
Grand Total
14
136
265
73
488
※Statistics for the FY2014 stand for the records until June, 2014.